Embrace Home Loans, headquartered in Newport, Rhode Island, originates mortgages in just about every state. Our Embrace Home Loans review of the company and their website are below.
Embrace Home Loans Review
We noticed the name change from AFS to Embrace. According to their President, Kurt Noyce, the reason for the change is expansion related. In other words, their old name was not available in the states they wanted to move into and so if they wanted to build a brand, they would have to change their name.
According to HUD figures in 2011, they had about 165,000 apps totaling almost $22.7 billion in total volume with the bulk of that being refinance business. FHA applications were about 3 times that of the other applications.
Wow…This is a BIG company.
Note: Read Our Top Five Mortgage Complaints!
Hear Kurt Noyce discuss the industry and his company on Terry Bradshaw's interview show…
I checked out their licensing on NMLS and here is where they are currently licensed:
Alabama, Alaska, Arizona, Arkansas, California, Colorado, Connecticut, Dist. of Columbia, Florida, Georgia, Idaho, Illinois, Indiana, Iowa, Kansas, Kentucky, Louisiana, Maryland, Massachusetts, Michigan, Minnesota, Mississippi, Nebraska, New Hampshire, New Jersey, New Mexico, New York, North Carolina, North Dakota, Ohio, Oklahoma, Oregon, Pennsylvania, Rhode Island, South Carolina, South Dakota, Tennessee, Texas, Utah, Virginia, Washington, West Virginia, and Wisconsin.
According to their website:
"We've helped hundreds of thousands of people just like you. We'll work with you to achieve your financial goals - no matter what season of life you're currently in. It might sound old fashioned, but our customer-centric approach is the main reason we're one of the fastest growing mortgage lenders in the nation. It's an approach our customers genuinely appreciate. You could even say they embrace it."
Embrace Home Loans Review - Website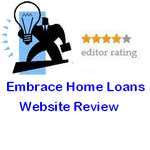 Reviewed by The Mortgage Insider on March 18, 2011.
The Embrace Home Loans website is a professional looking modern site that clearly is designed to impress visitors. It has video which is rare on mortgage websites.
The Embrace Home Loans website is one of the best I have reviewed. They covered all the bases…a good visitor experience with an understandable menu, fast loading pages, and a search box and toll free number prominently displayed at the top right of each page. The have the SSL certificate in place necessary to take secure online applications and very pleasant set of rotating photos in there marquee area.
Most mortgage websites have rates posted but read the fine print. It depends on your loan amount, credit score, etc. And also look for the date the mortgage rates were posted. Sometimes a company does not update their rates so you end up looking at information days or weeks old.
My Rating: 4 out of 5 stars.
Embrace Home Loans Contact Information
Website: www.embracehomeloans.com
Phone: 800-620-6292
Headquarters Address: 25 Enterprise Center, Newport, RI 02842
Embrace Home Loans Ratings and Complaints
BBB reports "217 complaints closed with BBB in last 3 years | 80 closed in last 12 months" with an A+ rating as of 12/7/12.
Note: Compare Mortgage Rates of local lenders now!
Get a mortgage rates quote from 4 legit lenders Free...Click Here!
Author: The Mortgage Insider
The Embrace Home Loans website is a professional looking modern site that clearly is designed to impress visitors.
Embrace Home Loans Review
was last modified:
August 26th, 2015
by