Amerisave Mortgage, headquartered in Atlanta, is one of the largest mortgage lenders in the United States. Our Amerisave Mortgage review of the company and their website are below.
Amerisave Mortgage Review
Amerisave originates loans in every state through their website and outside loan consultants.
Even though they have outside loan officers, they do have branch locations:
Arizona, California, Florida, Georgia, Hawaii, Kentucky, Maryland, Michigan, Missouri, North Carolina, New Jersey, Nevada, Ohio, and Washington.
They are proud of being part of the "Upfront Mortgage Lenders" network. The idea behind the network is to add transparency to the costs and pricing in this industry.
Note: Read Our Top Five Mortgage Complaints!
According to Department of Housing and Urban Development data, they had application volume of over $23 billion in 2012. Most of that was refinance applications.
According to their website:
"Amerisave is one of the largest retail mortgage lenders in the country, with hundreds of employees serving customers in all 50 states and DC. Our goal is to provide low rates and excellent service to every customer.

Amerisave.com was designed to make shopping for mortgages easy and straight forward. You can shop, apply and request your rate lock in minutes."
Recent News
On August 12th 2014, the Consumer Finance Protection Bureau orders Amerisave to pay $19.3 million for bait and switch mortgages. The article on the CFPB's website says,
"(CFPB) took action against Amerisave Mortgage Corporation, its affiliate, Novo Appraisal Management Company, and the owner of both companies, Patrick Markert, for engaging in a deceptive bait-and-switch mortgage-lending scheme that harmed tens of thousands of consumers. The Bureau found that Amerisave lured consumers by advertising misleading interest rates, locked them in with costly up-front fees, failed to honor its advertised rates, and then illegally overcharged them for affiliated "third-party" services. Amerisave and Novo will provide $14.8 million in refunds to harmed consumers and pay a $4.5 million penalty. Patrick Markert, as an individual, will pay an additional $1.5 million penalty."
Amerisave Mortgage Review - Website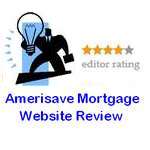 The Amerisave Mortgage website is probably for those folks who are not in the discovery phase of their mortgage shopping but more the "I'm ready to get this done" phase. Although, they do have educational info on their site, the main thing is speed and rates. Their home page has rates, rate quotes, alerts, and apply now. They do have a button for questions but their content is geared more toward people who are ready to go.
Some people would not dream of locking a loan right away. They need time to discover all options and just reflect a bit before they get to that stage. Others know exactly what they want. They are comfortable with what is happening and are just ready to lock and get the mortgage started. If you are one of those people, they do give you several options. I give this website 4 out of 5 stars.
Amerisave Mortgage Contact Info
Website: www.amerisave.com
Phone: (866) 970-SAVE
Address: One Capital City Plaza, 3350 Peachtree Rd, Suite 1000, Atlanta, GA 30326
Amerisave Ratings and Complaints
BBB reports "246 complaints closed with BBB in last 3 years | 28 closed in last 12 months" with a D rating as of 09/14.
Thanks for visiting!
The Mortgage Insider
Note: Compare Mortgage Rates of local lenders now!
Get a mortgage rates quote from 4 legit lenders Free...Click Here!
Author: The Mortgage Insider
The Amerisave Mortgage website is probably for those folks who are not in the discovery phase of their mortgage shopping but more the "I'm ready to get this done" phase.
Amerisave Mortgage Review
was last modified:
August 26th, 2015
by